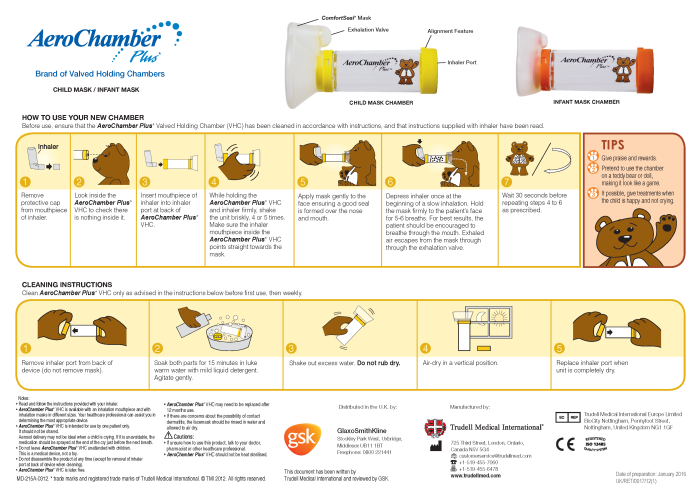 AeroChamber Plus VHC may need to be replaced after 12 months use.
How to use an AeroChamber with mask

Video player requires JavaScript enabled. You can download this video here: http://gskvideo.edgesuite.net/HealthSites/Health/UK/MP4/1_AEROCHAMBER_w Mask_d1.mp4
How to use an AeroChamber with mouthpiece
How to use an Aerochamber with mouthpiece
Video player requires JavaScript enabled. You can download this video here: http://gskvideo.edgesuite.net/HealthSites/Health/UK/MP4/2_AEROCHAMBER_w Mouthpiece_d1.mp4
If you experience any side effects, talk to your doctor, pharmacist or nurse. This includes any possible side effects not listed in the package leaflet. You can also report side effects directly via the Yellow Card Scheme at: www.mhra.gov.uk/yellowcard.
By reporting side effects you can help provide more information on the safety of this medicine.

AeroChamber Plus is manufactured by Trudell Medical International. Distributed in the UK by GlaxoSmithKline.