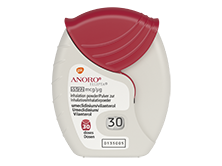 Anoro Ellipta contains two active substances called umeclidinium and vilanterol. These belong to a group of medicines called bronchodilators.[1]
What is Anoro Ellipta used for?
Anoro Ellipta (umeclidinium/vilanterol) is used to treat chronic obstructive pulmonary disease (COPD) in adults. COPD is a long term condition characterised by breathing difficulties that slowly gets worse.[1]
In COPD the muscles around the airways tighten. This medicine blocks the tightening of these muscles in the lungs, making it easier for air to get in and out of the lungs. When used regularly, it can help to control your breathing difficulties and reduce the effects of COPD on your everyday life.[1]
▼This medicine is subject to additional monitoring. This will allow quick identification of new safety information. You can help by reporting any side effects you may get. If you experience any side effects, talk to your doctor, pharmacist or nurse. This includes any side effects not listed in the package leaflet. You can also report side effects directly via the Yellow Card Scheme at www.mhra.gov.uk/yellowcard.
By reporting side effects you can help provide more information on the safety of this medicine.
Anoro and Ellipta are registered trademarks of the GlaxoSmithKline group of companies.