How does Nucala work
This page is specifically for patients who have been prescribed Nucala. If you are not a patient who has already been prescribed Nucala, please return to the public website.

What does Nucala do?
When eosinophils (white blood cells) move from your blood into your lungs, they can cause your airways to become inflamed, increasing the risk of a severe asthma attack

Interleukin-5 (IL-5) contributes to the development and survival of eosinophils.

Nucala blocks IL-5 binding to eosinophils and reduces the number of eosinophils in your blood, leading to less inflammation in your lungs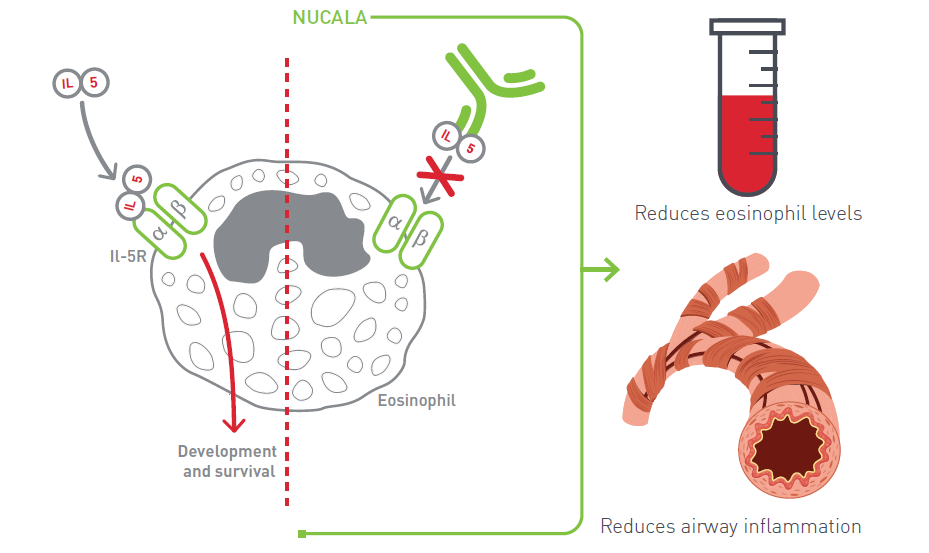 It's important to note
Always consult your doctor if…
Your condition changes

Your symptoms worsen

You are breast-feeding

You are pregnant, think you may be pregnant or are planning to have a baby

You have any concerns about your treatment
Should I continue my existing medication
Yes. Nucala is an add-on treatment, which means you should continue to take your other medications as prescribed by your doctor.

It is recommended that all patients with asthma have an asthma action plan.

If you have any questions, please ask your doctor or nurse at your next appointment.
Nucala is a registered trademark of the GlaxoSmithKline group of companies
Adverse events should be reported. Reporting forms and information can be found at www.mhra.gov.uk/yellowcard or search for MHRA Yellowcard in the Google Play or Apple App store. Adverse events should also be reported to GlaxoSmithKline on 0800 221 441.