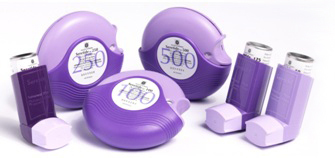 Information for Seretide patients
Seretide contains two medicines, salmeterol xinafoate and fluticasone propionate. It comes in three different doses and in two types of inhaler. [1]
Salmeterol xinafoate is a long-acting bronchodilator; its effect lasts for 12 hours. Bronchodilators help the airways in the lungs to stay open making it easier for air to get in and out. Fluticasone propionate is a corticosteroid which reduces swelling and irritation of the airways. [1]
Seretide can be taken as either a pressurised aerosol using the Evohaler device, or as a dry powder using the Accuhaler device. Delivered by either device, Seretide is prescribed for the treatment of asthma. Seretide 500 Accuhaler can also be used to treat chronic obstructive pulmonary disease (COPD). [1][2]
Patients must use Seretide as directed by their doctor.
How to use your Evohaler with Volumatic
How to use your Accuhaler
For further information on salmeterol xinafoate and fluticasone propionate, including information on side effects and what to do before you use this medicine, please see:

References:
If you experience any side effects, talk to your doctor, pharmacist or nurse. This includes any side effects not listed in the package leaflet.
You can also report side effects directly via the Yellow Card Scheme at www.mhra.gov.uk/yellowcard.
By reporting side effects you can help provide more information on the safety of this medicine.
Seretide, Accuhaler and Evohaler are registered trademarks of the GlaxoSmithKline group of companies.