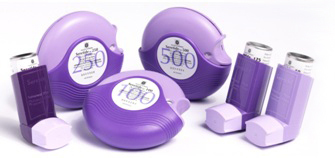 Information for Seretide patients
Seretide contains two medicines, salmeterol xinafoate and fluticasone propionate. It comes in three different doses and in two types of inhaler devices. 1
Salmeterol xinafoate is a long-acting bronchodilator, its effect lasts for at least 12 hours. Bronchodilators help the airways in the lungs to stay open making it easier for air to get in and out. Fluticasone propionate is a corticosteroid which reduces swelling and irritation of the airways. 1

Seretide can be inhaled as either a pressurised aerosol using the Evohaler device, or as a dry powder using the Accuhaler device. Delivered by either device, Seretide is prescribed for the treatment of asthma. Seretide 500 Accuhaler can also be used to treat chronic obstructive pulmonary disease (COPD). 1 2
Patients must use Seretide as directed by their Doctor.
How to use your Evohaler with Volumatic
How to use your Accuhaler
Asthma is a common lung condition that causes occasional breathing difficulties. It affects people of all ages and often starts in childhood, although it can also develop for the first time in adults.
Asthma control test

Take the Asthma Control test to get a snapshot of how well your asthma has been controlled over the last four weeks.
Asthma UK
Visit the Asthma UK website for information and advice on living with asthma.
Managing your COPD
COPD stands for chronic obstructive pulmonary disease. This is a term used for a number of lung conditions including chronic bronchitis and emphysema. In COPD the muscles around the airways tighten and get narrower making it difficult for air to get in and out of the lungs. There are a number of useful resources to help manage your COPD:
Stopping smoking

Smoking is a major cause of COPD. Speak to your doctor or COPD nurse about stopping smoking and follow the links below for more support services.
NHS Stop Smoking Services
Helpline 0800 022 4 332
Ground Floor, 211 Old Street, London EC1V 9NR
Download the NHS Smokefree app to help you stop smoking by providing daily support and motivation.
British Lung Foundation

Visit the British Lung Foundation website for information and advice on living with COPD.
British Lung Foundation Support Groups

The British Lung Foundation support groups provide support and information for people living with a lung condition, and for their carers. Visit the British Lung Foundation page on British Lung Foundation Support Groups for more information.
For further information on salmeterol xinafoate and fluticasone propionate, including information on side effects and what to do before you use this medicine, please see patient information leaflets below.
If you experience any side effects, talk to your doctor, pharmacist or nurse. This includes any side effects not listed in the patient information leaflet.
You can also report side effects directly via the Yellow Card Scheme at https://yellowcard.mhra.gov.uk/ or search for MHRA Yellowcard in the Google Play or Apple App store.
By reporting side effects you can help provide more information on the safety of this medicine.
Seretide, Accuhaler and Evohaler are registered trademarks of the GlaxoSmithKline group of companies.