GSK's response to COVID-19
Since the outbreak, we have been actively exploring ways to help, with our science and expertise, alongside protecting the health and wellbeing of our people and managing our global supply chains to support patients and consumers who depend on our products.
April 2020. NP-GB-NA-WCNT-200016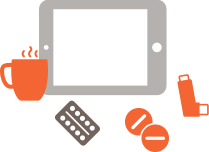 Find a medicine
Use the search function to quickly find the medicine or vaccine you want to know more about:
If you experience any side effects, talk to your doctor, pharmacist or nurse. This includes any side effects not listed in the Patient information leaflet.
You can also report side effects directly via the Yellow Card Scheme at https://yellowcard.mhra.gov.uk/ or search for MHRA Yellowcard in the Google Play or Apple App store.
By reporting side effects you can help provide more information on the safety of this medicine.