Questions about your Ventolin (salbutamol sulfate) Accuhaler or Seretide (salmeterol xinafoate/fluticasone propionate) Accuhaler?
GSK has initiated a recall of two Lots of Ventolin Accuhaler devices from patients and one Lot of Seretide Accuhaler devices from hospitals, pharmacies, dispensing practices, retailers and wholesalers.
For more information, visit www.GSK.co.uk.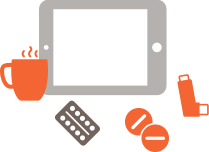 Find a medicine
Use the search function to quickly find the medicine or vaccine you want to know more about:
If you experience any side effects, talk to your doctor, pharmacist or nurse. This includes any side effects not listed in the package leaflet.
You can also report side effects directly via the Yellow Card Scheme at www.mhra.gov.uk/yellowcard.
By reporting side effects you can help provide more information on the safety of this medicine.