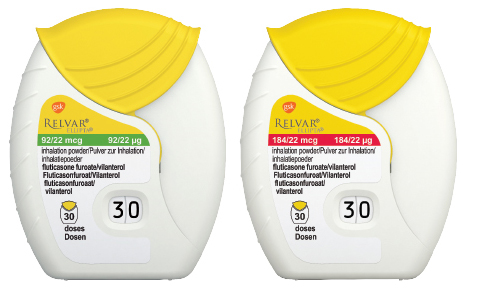 Relvar Ellipta is a preventer inhaler and contains two medicines, fluticasone furoate and vilanterol. Vilanterol is a bronchodilator (long-acting beta2 agonist), which works by relaxing the muscles in the lungs and maintaining open airways, helping you to breathe better. While fluticasone furoate is a steroid (inhaled corticosteroid) that has an anti-inflammatory effect in the lungs.

If you experience any side effects, talk to your doctor, pharmacist or nurse. This includes any side effects not listed in the package leaflet.
You can also report side effects directly via the Yellow Card Scheme at www.mhra.gov.uk/yellowcard.
By reporting side effects you can help provide more information on the safety of this medicine.
Relvar and Ellipta are registered trademarks of the GlaxoSmithKline Group of Companies