What is rotavirus infection?
Rotavirus infection is the most common cause of severe diarrhoea in infants and young children. Rotavirus is spread from hand-to-mouth due to contact with stools from an infected person. The infection generally lasts 3 - 8 days and symptoms can be severe in infants, with those between 3 - 36 months being most commonly affected. [1]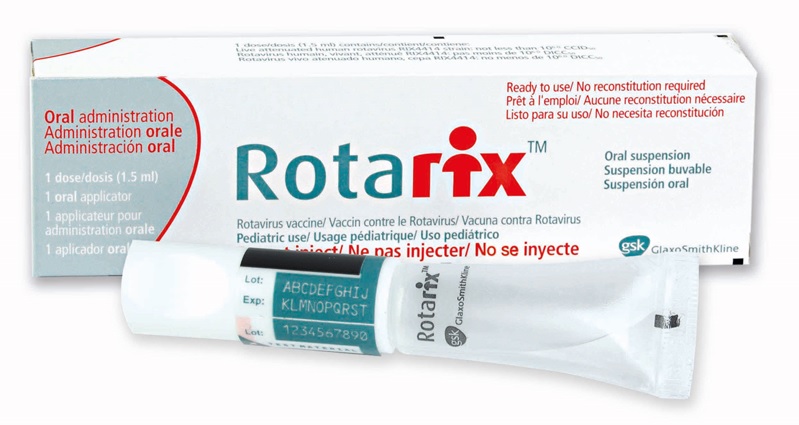 Most children with rotavirus diarrhoea recover on their own. However, some children become very ill with severe vomiting, diarrhoea and life-threatening loss of fluids that requires hospitalisation.
Rotavirus is highly contagious and can survive for days on dry surfaces. Although good hygiene and sanitation are encouraged, this alone will not prevent transmission of the virus.[2]
About Rotarix:
Rotarix is a live attenuated (weakened) rotavirus vaccine and is suitable for use in infants aged 6 – 24 weeks for the prevention of gastro-enteritis due to rotavirus infection.[3] The vaccine is given orally (by mouth) in two doses, at least 4 weeks apart.[3]
How Rotarix works:
The vaccine contains live, attenuated (weakened) human rotavirus and works by causing the body's immune system to make antibodies against the most commonly occurring types of rotavirus.[3] These antibodies protect against disease caused by these types of rotavirus.[3]
When should Rotarix be given:
Rotarix is suitable for use in infants aged 6 to 24 weeks, who have been officially recommended to receive the vaccination.

[3]

The vaccination course should preferably be given before 16 weeks of age, but must be completed by the age of 24 weeks.

[3]

It is important that you follow the instructions of your doctor or nurse regarding return visits.
For further information on this live rotavirus vaccine please see:
References:
Chen SC, Tan LB, Huang LM et al. Rotavirus infection and the current status of rotavirus vaccines. J Formos Med Assoc. 2012 Apr; 111(4): 183-93

Mrukowicz J, Szajewska H, Vesikari T. Options for the Prevention of Rotavirus Disease Other Than Vaccination. Journal of Pediatric Gastroenterology and Nutrition 2008; 46: 32-37
If you experience any side effects, talk to your doctor, pharmacist or nurse. This includes any side effects not listed in the package leaflet.
You can also report side effects directly via the Yellow Card Scheme at www.mhra.gov.uk/yellowcard.
By reporting side effects you can help provide more information on the safety of this medicine.
Rotarix is a registered trade mark of the GlaxoSmithKline group of companies