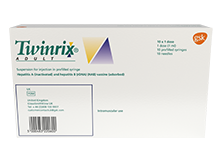 Twinrix overview
Find out what Twinrix is used for, how it works and
how it is given to patients.
If you experience any side effects, talk to your doctor, pharmacist or nurse. This includes any side effects not listed in the package leaflet.
You can also report side effects directly via the Yellow Card Scheme at www.mhra.gov.uk/yellowcard.
By reporting side effects you can help provide more information on the safety of this medicine.
Twinrix is a registered trademark of the GlaxoSmithKline Group of Companies