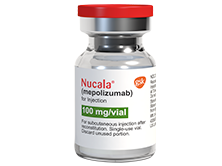 What is Nucala?

Nucala is an asthma medicine used to treat patients aged 6 years and above with a particular type of asthma called severe eosinophilic asthma. It is used with other medicines in patients whose asthma is severe and not well controlled with previous treatments.
Nucala contains the active substance mepolizumab.


Nucala is a registered trademark of the GlaxoSmithKline group of companies

Adverse events should be reported. Reporting forms and information can be found at www.mhra.gov.uk/yellowcard or search for MHRA Yellowcard in the Google Play or Apple App store. Adverse events should also be reported to GlaxoSmithKline on 0800 221 441.